Management
---
The consideration loads on the tower:
The tower's lateral load resisting system consists of high perfomance, reinforced concrete columns through a series of reinforced concrete shear wall panels at the mechanical levels.The core walls vary in thickness from 1300mm to 500mm.The core walls are typically linked through a series of 800mm to 1100mm deep reinforced concrete link beams at every level
These composite ductile link beams typically consist of steel shear plates, or structural steel built-up i-shaped beams, with shear studs embedded in the concrete section.
At the top of the center reinforced concrete core wall, a very tall spire tops the building, making it the tallest tower in the world in all categories.The lateral load resisting system of the spire consists of a diagonal structural steel bracing system from level 156 to the top of the spire at approximately 750 meter above the ground.
The pinnacle consists of structural steel pipe section varying from 2100mm diameter x 60mm thick at the base to 1200mm x 30mm thick at the top (828m).
Gravity load management is also critical as it has direct impact on the overall efficiency and perfomance of the tower and it should be addressed at the early design state, during the development and integration of the architectural and structural design concept.
The limitations on the wall thickness (500-600mm) of the center core and the wing walls thickness (600mm) allowed, art of working with concrete, the gravity load to flow freely into the center corridor Spine web walls (600mm) to the hammer head walls and nose columns for maximum resistance to lateral loads.
Wind Engineering in general
Several wind engineering techniques were employed into the design of the tower to control the dynamic response of the tower under wind loading by disorganizing the vortex shedding formation (frequency and direction) along the building height and tuning the dynamic characteristics of the building to improve its dynamic behaviour and to prevent lock-in vibration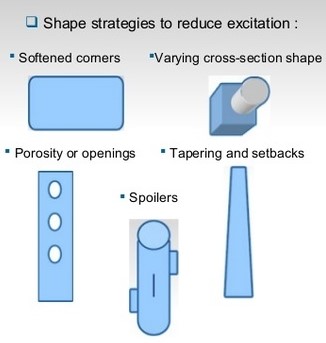 Wind Engineering Management
The wind engineering management of Burj Khalifa was achieved by:
Varying the building shape along the height while continuing, without interruption, the building gravity and lateral load resisting system
Reducing the floor plan along the height, thus effectively tapering the building profile.
Using the building shapes to introduce spoiler type of effects along the entire height of the tower, including the pinnacle, to reduce the dynamic wind excitations.
Change the orientation of the tower in response to wind directionality, thus stiffening the structure normal to the worst wind direction
Dubai outside the scope of the seismic activity
Liquefaction analysis of Burj Khalifa soil showed that is not a problem
Burj Khalifa is located in Dubai, which is a UBC97 Zone 2a seismic region (with a seismic zone factor Z= 0.15 and soil profile Sc).
Thus,earthquake loads did not govem the concrete tower design (wind loads govern) but it does govern the design of the steel spire anove the concrete tower
However, Burj Khalifa resisted earthquake of M5.8 magnitude that occured in southern Iran on July 20,2010.
While the magnitude of this earthquake was diminished when it reached Dubai and was relatively small(less than 1 milli-g at BK site)
| | |
| --- | --- |
| Wind Tunnel Test | The Tower Shape |